How Much Can My Subaru Tow? | Subaru Towing Guide
Your Subaru can handle your off-road adventures, thanks to its Symmetrical All-Wheel Drive system. But, how much can you tow behind your trusty Subaru? Our team has put together a quick Subaru towing reference guide.
Keep in mind that knowing your vehicle's towing capacity is essential before loading up and hitting the road. Too much weight can cause permanent damage to your Subaru, and no one wants that!
It is also important to note that certain models, such as the Impreza, Legacy, BRZ, WRX and WRX STI are not recommended for towing purposes.
---
ALWAYS MAKE SURE YOU KNOW YOUR TRAILER'S EXACT WEIGHT.
The recommendations below are suggestions based on average trailer weight for each trailer specified.
---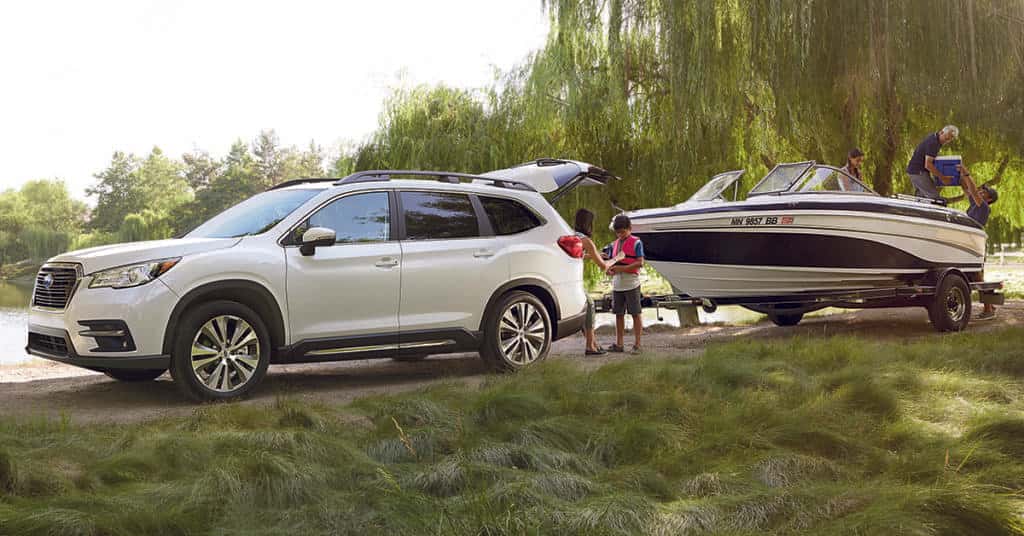 ---
Before towing anything behind your Subaru, it is important to understand some key towing terms.
Gross Vehicle Weight Rating (GVWR): This measurement is the maximum loaded weight, specified by the specific manufacturer. This includes the weight of the vehicle, passengers and cargo inside.
Gross Axle Weight Rating (GAWR): GAWR is the maximum distributed weight that can be placed on your vehicle's front or rear axles. This is also specified by manufacturer.
Gross Trailer Weight (GTW): This is the total weight of the trailer as well as all of its cargo. This can be calculated by putting the fully loaded trailer onto a vehicle scale.
Tongue Weight (TW): This can be defined as the downward force on the back of your vehicle by the cargo within the trailer. This can be affected by the way the cargo is positioned within the trailer, and it is very important in order to maintain control of your vehicle. Suggested tongue weight is around 10-15% of your vehicle's Gross Trailer Weight.
It is also important to keep these metrics in mind before you tow any kind of trailer with your Subaru. For example, while your Crosstrek might be able to tow a lightweight aluminum boat, it may not be able to tow the boat, all of your fishing gear, cooler full of beer and snacks. So always make sure your trailer and cargo are the appropriate weight. To help calculate your vehicle's appropriate towing capacity, you can also use a towing calculator. 
---
How much can a Subaru Crosstrek tow?
The 2019 Subaru Crosstrek has a towing capacity of 1,500 lbs, while its hybrid version is able to tow up to 1,000 lb. With the Crosstrek, you should be able to tow some lightweight aluminum or fiberglass boats, a motorcycle trailer, compact/lightweight campers and some lightweight utility trailers.
How much can a Subaru Forester tow?
2019 Forester models can tow up to 1,500 lbs. The list of appropriate trailers for the Crosstrek also applies to the 2019 Forester.
How much can a Subaru Outback tow?
Subaru's well-loved wagon, the Outback, has a towing capacity of 2,700 lbs. Outback can also tow most lightweight aluminum or fiberglass boats, motorcycle trailers, lightweight utility trailers, compact/lightweight campers and some lightweight horse trailers. Keep in mind, while the trailer might be light enough for your Subaru to haul, once you load up additional cargo (or horses, for example) you must add the additional weight to the trailer weight.
How much can a Subaru Ascent tow?
Subaru's newest, and largest vehicle yet – the Subaru Ascent can tow up to 5,000 lb. All trim levels have a towing capacity of 5,000 lb, besides the Ascent base model, which can tow up to 2,000 lb. Ascent really steps up the Subaru towing game, and is able to tow most  aluminum or fiberglass boats, motorcycle trailers, lightweight utility trailers, horse trailers, and some campers or vacation trailers.
Have any additional questions? Feel free to leave us a comment!