2019 Subaru Ascent vs. Toyota Highlander
Subaru's largest vehicle yet, the Subaru Ascent, rolled onto showroom floors earlier this year. Performance reviews on the 8-passenger Subaru have placed the Ascent among the top of the competition in the SUV category. Toyota's Highlander model has been one of America's best-selling SUVs for years, but how does it compare to the all-new Ascent?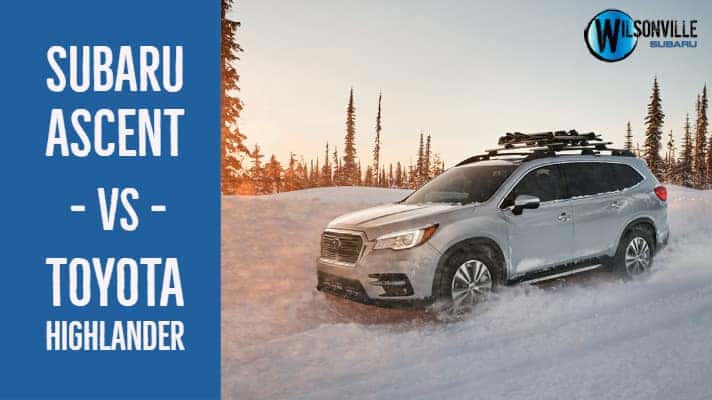 Price
Ascent and Highlander come with similar starting MSRP price tags, with the Highlander starting at $31,230 and the Ascent starting at $31,995. While the Ascent's base model MSRP is around $700 more than the Highlander, Ascent comes with standard All-Wheel Drive. In order to get AWD on the Highlander, the price goes up to $35,785 (a $4,555 increase!). While AWD is only an option on Highlander, Ascent comes equipped with standard Subaru Symmetrical All-Wheel Drive.
Fuel Efficiency
With the Ascent, AWD doesn't mean compromising fuel economy. The Subaru SUV boasts an impressive 21/27/24 (city/highway/combined) MPG* just surpassing the competition's 19/26/22 MPG. Additionally, Ascent's Direct-Injection Turbocharged (DIT) BOXER engine is able to deliver 260 hp. Highlander's base model only produces 185 hp, drastically less than that of the Ascent.
Standard Safety & Technology
Subaru checked all the boxes when it comes to standard features on the Ascent. As mentioned earlier, standard symmetrical AWD is a huge benefit, but standard features like EyeSight Driver Assist technology, Apple CarPlay, Android Auto and tri-zone automatic climate control really make the Ascent stand out in a crowd. While tri-zone automatic climate control is available on Highlander models, it comes at an additional cost and is not standard on the base model. Additionally, the 2018 Highlander does not offer Apple CarPlay or Android Auto on any trim level.
Standard Convenience Features
Bigger is better, right? The Subaru Ascent features 8.7 in. of ground clearance, compared to just 8 in. on the Highlander. Additionally, the Ascent is 4 in. longer, 3 in. taller and provides 4 in. more legroom in the third row of seating. Between the 5,000 lb. towing capacity and 17.8 cu. ft. of trunk space, you won't have to leave anything behind on your next adventure. Highlander models have a variety of towing capacities, however, the base model can only tow up to 1,500 lb. Trunk space in the Highlander is also compromised, with just 13.8 cu. ft. behind the third row of seats.
"The Ascent's advantage over the Toyota lies with its vastly superior driving dynamics, a brilliant interior, top-notch tech suite, and an infotainment system that is actually quite good," said Business Insider writer Benjamin Zhang.
Learn more about some of the awesome features Ascent has to offer: