Love Promise: 13th Annual Pink Ball Tournament
This year, Wilsonville Subaru was a proud sponsor for the 13th annual pink ball tournament, an event that raises money for the OHSU Knight Cancer Foundation.
---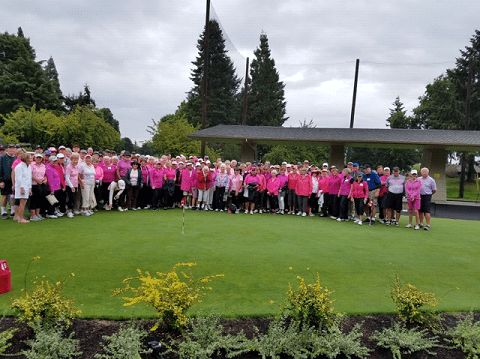 Love promise letter from the Charbonneau Women's Niner Golf Club:
"The Pink Ball Tournament sponsored by the Charbonneau Women's Niner Golf Club successfully ended it's 13th annual tournament on September 11th. Thanks to the support of our community and corporate sponsors, one of which is  Wilsonville Subaru, the Pink Ball Tournament raised over $47,222.00.  All of the money raised was donated the the OHSU Knight Cancer Foundation for the research and treatment of Cancer, a disease that unfortunately touches all of us in one way or another There were 168 golfers on the in the field  playing in the 4 person scramble and  193 people  attending  the lunch following the tournament.
The first Pink Ball Tournament  in 2006 was the idea of Peg Watson, a retired Catlin Gabel school teacher.  Peg had just returned from the East Coast where she had lost a loving sister from Cancer.  Peg knew from the wonderful treatment and  care her sister received  that she wanted to help raise money for the treatment and  cure of this disease.  So Peg, an active golfer in the Charbonneau community for a number of years,  combined her idea with the efforts of the Charbonneau Women's Niner Golf Club and built a tournament that has donated over $211,600.00  to Cancer over the past 5 years.
Our deepest gratitude is extended to Wilsonville Subaru which  has become one of our Gold Sponsors these past two years and we look forward to their wonderful support  in our fight to successfully treat and  cure this disease for generations to come. "