What is Subaru EyeSight Technology? How Does Subaru EyeSight Work?
What is Subaru Eyesight Technology?
Subaru's EyeSight technology works as a "second set of eyes" on the road ahead. Designed as a preventative safety system, EyeSight is able to warn you when there's a potentially dangerous situation ahead, and can even apply the brakes if you don't react quickly enough. Powered by dual color cameras placed strategically at the top of your Subaru's windshield, this safety system helps add some peace of mind behind the wheel.

How does Subaru Eyesight work?
EyeSight uses two in-vehicle windshield mounted cameras to constantly monitor the road ahead. When a potential issue is detected, EyeSight will activate one of the four technology systems in order to keep you and your Subaru safe.
Subaru EyeSight is divided into four separate safety technologies:
Pre-Collision Throttle Management
Your Subaru's Pre-Collision Throttle Management system is a key component to safe driving. The system helps to avoid accidental acceleration and allows drivers more response time. This system works by using the dual color cameras to detect when a vehicle ahead has slowed down or stopped. The system will detect any potential danger and automatically reduce the power sent to the throttle and prompt you with visual and audible alerts.
Adaptive Cruise Control
EyeSight's adaptive cruise control works similarly to traditional cruise control, but with some added benefits. Once you activate the adaptive cruise control and apply a set speed, EyeSight takes care of the rest. Highway traffic is rarely ever consistent, so the adaptive cruise control system adjusts your speed according to the fluctuation in traffic. Once you set the distance from the car ahead that you'd like to maintain, EyeSight monitors the traffic ahead and adjusts your speed accordingly. Adaptive cruise control even works in stop-and-go traffic, bringing your vehicle to a complete stop if necessary.
Lane Departure and Sway Warning with Lane Keep Assist
This convenient system uses the in-vehicle cameras to monitor visible lane markings on the road. If you begin drifting outside of your designated lane, the lane departure alert system will alert you with both visual and audible alerts. The system will also alert you if you begin swaying back and forth within your lane, in order for you to take corrective action. The lane keep assist portion of this system will gently adjust your steering (and once again, send alerts) if you begin to veer too far out of your lane, in order to get you safely back to the center of the lane.
Pre-Collision Braking
This unique safety technology helps to prevent rear-ending another vehicle. The EyeSight system constantly gauges the distance between you and the vehicle ahead of you. If the vehicle suddenly slows down, the pre-collision braking system will analyze the speed and activate audible and visual alert if it senses a forward collision approaching. If you don't react quickly enough, the system can even apply the brakes for you! Pre-collision braking can bring your Subaru to a full stop if necessary, and will even apply additional brake force if you react in time, but need a little assistance.
Can Subaru Eyesight be turned off?
Yes! While we do not recommend deactivating EyeSight due to the additional benefits behind the wheel, it is possible to disable each feature individually. Most of the EyeSight controls can be found to the left of the steering wheel on the dash, directly below the heating vent.
To disable Lane Departure Warning, find the button featuring an icon of a vehicle veering to the right side, labled "OFF". Press and hold the button for around 2 seconds to disable the feature.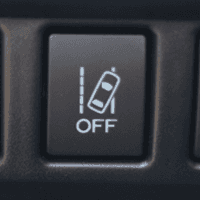 ---
The button to disable Pre-Collision Braking is located in the same area as the Lane Departure Warning button. However, this one shows two vehicles colliding. To disable Pre-Collision Braking, hold this button for two seconds. It is important to disable Pre-Collision Braking before entering a carwash, so the EyeSight system does not try to apply the brakes during the carwash process.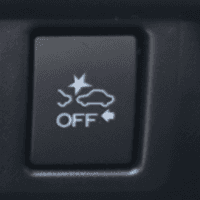 ---
While Lane Keep Assist can be a handy feature, you can easily turn it off directly from your steering wheel. Simply press the lower right button on the right side of your steering wheel to turn off this function.
---
To disable Adaptive Cruise Control and switch to standard cruise control, all you need to do is press and hold the "set distance" button on the right side of your steering wheel. Continue to set speed as you usually would. Easy as that!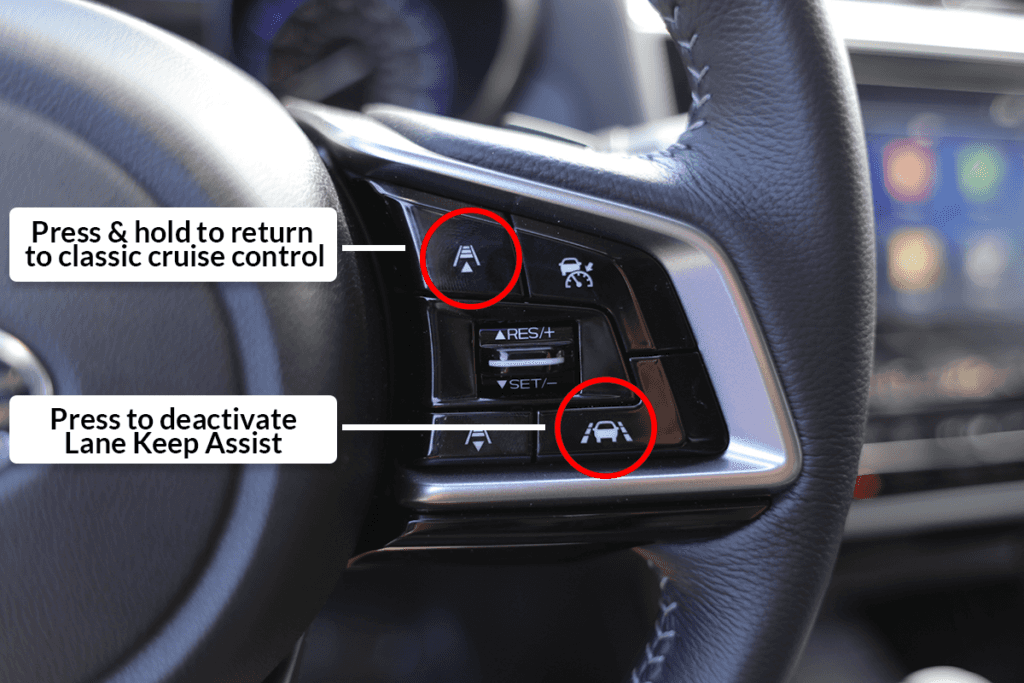 How trustworthy is Subaru EyeSight?
Many drivers think they can get by with their own impeccable driving habits. However, accidents happen to even the best drivers – luckily, EyeSight is here to help. But, how trustworthy is Subaru EyeSight technology? ALL 2018 Subaru models equipped with EyeSight Driver Assist Technology received the highest possible front crash prevention rating from the Insurance Institute for Highway Safety (IIHS) – how's that for peace of mind?
Which models come with standard Subaru Eyesight?
Subaru's EyeSight Driver Assist Technology is either standard or optional on all 2019 Subaru models, excluding the BRZ.
Have any more questions about Subaru's EyeSight Driver Assist Technology? Leave us a comment!