What is Subaru X-MODE?

What is X-MODE?
Subaru vehicles are known for being safe and reliable, thanks to features like EyeSight technology and Symmetrical All-Wheel Drive. To help enhance these already reliable vehicles, Subaru throws "X-MODE" into the mix. X-MODE is a standard feature on some 2018 and 2019 Subaru models that helps improve and optimize features in order to create a safer drive in slippery or steep driving conditions.
Tackle the toughest terrains with confidence and ease. This additional safety feature optimizes a few features in your beloved Subaru. When activated, X-MODE helps to optimize the electronic control of the vehicle's engine, transmission, All-Wheel Drive, brakes and vehicle dynamics control systems. This optimized control makes driving on slick roads, steep inclines and declines much easier, helping to control wheel slippage and make your drive even smoother.
Not only does X-MODE improve vehicle control, it also enhances vehicle performance and allows drivers to feel more confident behind the wheel. By controlling wheelspin, your Subaru is provided with better traction, letting you focus on the exciting road ahead. The hill descent control feature allows drivers to take on the steepest decline with confidence. X-MODE also provides drivers with added confidence when climbing up a steep hill, allowing lower gear ratios to create and distribute additional power to the wheels with the most grip. Whether you're climbing, tackling a steep decline, or just see slippery surfaces in the forecast ahead; X-MODE is there to help.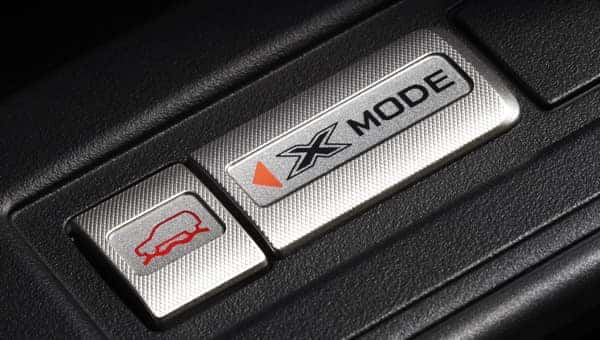 How does X-MODE work?
To enable X-MODE, simply push the button (appropriately labeled "X-MODE") near your gear shifter. Once the system is activated, a light will appear on your Subaru's information screen. The screen will then illustrate the driving wheel status, steering angle and ABS system status if necessary. Always make sure to disable this feature when driving on dry roads in order to maintain fuel economy.
The X-MODE system works at speeds of 18 mph and below, and will deactivate once your vehicle reaches 19 mph. The hill descent control feature helps maintain your vehicle's speed and control on a decline and works at speeds of 12 mph and below.
Which Subaru vehicles come with X-MODE?
X-MODE comes standard on all Ascent, Crosstrek, Forester and Outback models that are equipped with a Lineartronic Continuously Variable Transmission (CVT). So the next time you're taking the road less traveled by, allow X-MODE to lead the way.