Ranked: Four Best Subarus for Camping in Oregon
Everyone knows the Subaru brand goes hand in hand with outdoor activities. Centered around traveling and adventures, Subaru's are built to tackle just about any terrain, sun or snow, rain or shine! What you may not know, however, is that Subaru offers some of the best vehicles and accessories for camping and exploring the great outdoors. We will highlight the 4 Subaru vehicles best suited for camping and some of their best features.
Vehicle #1: Forester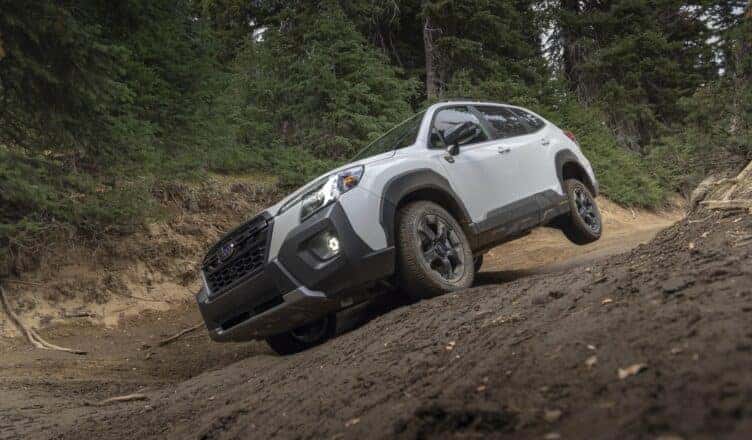 The Forester contains enough ground clearance to rival a Jeep Cherokee, 17 and 18-inch aluminum alloy wheels, and standard symmetrical all-wheel-drive to provide you with a quick response when conquering all terrains. With a passenger volume of up to 111.9 cubic feet and a cargo space of 31.1 cubic feet, your passengers will have enough room for their backpacks and sleeping bags, and still have plenty of space left for themselves.
Earning top marks with a 5-Star Overall Vehicle Safety Score from the National Highway Traffic Safety Administration, you can count on the Subaru Forester to keep you safe when traveling to your next adventure. This fuel-efficient vehicle gets up to 33 MPG on the highway, so you'll be happy to save money with each trip you take. Like the rest of the Subaru models, this vehicle is built in a zero-landfill plant, so you'll be respecting the planet as you explore the great outdoors.
Vehicle #2: Outback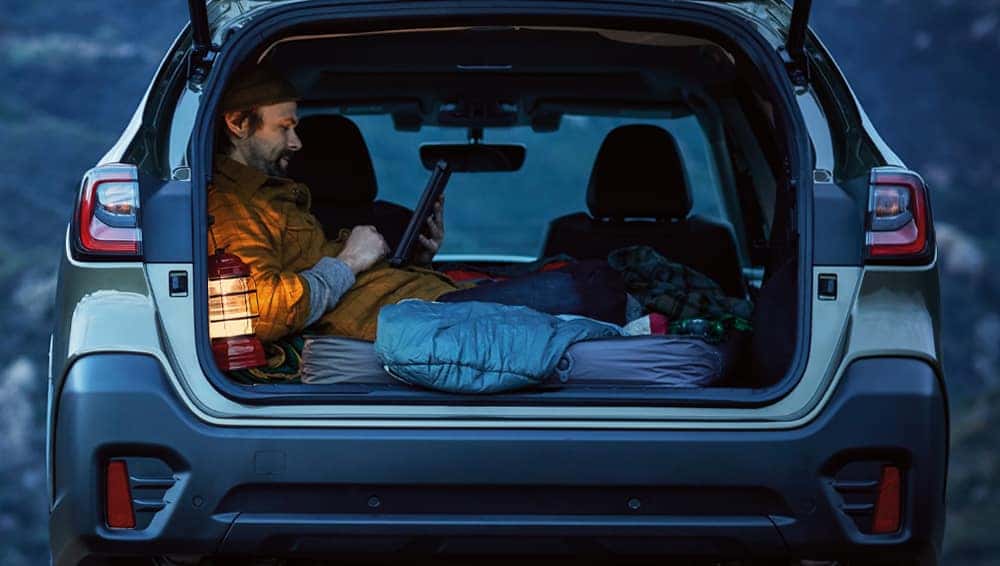 Considered one of the best-selling standard all-wheel-drive CUVs for the last decade, it's no wonder this long-lasting and durable vehicle would be perfect for your next camping trip. If you plan on exploring more extreme environments, the Subaru Outback's ground clearance of 8.7 inches will help you safely reach your destination.
Use your key fob to open the rear power gate where you can store your tents, coolers, and all other camping accessories with up to 32.5 cubic feet of storage (~130 basketballs!). Use the fold down back seats to create an added amount of space, up to 75.7 cubic feet. This leaves plenty of room to sleep or for storage (~302 basketballs!). Store your larger bags or items on the standard raised roof rails with enhanced tie-downs. When properly equipped, this 5-seater vehicle can even  your boat or small camper along for the adventure, towing up to 3,500lb*.
Vehicle #3: Crosstrek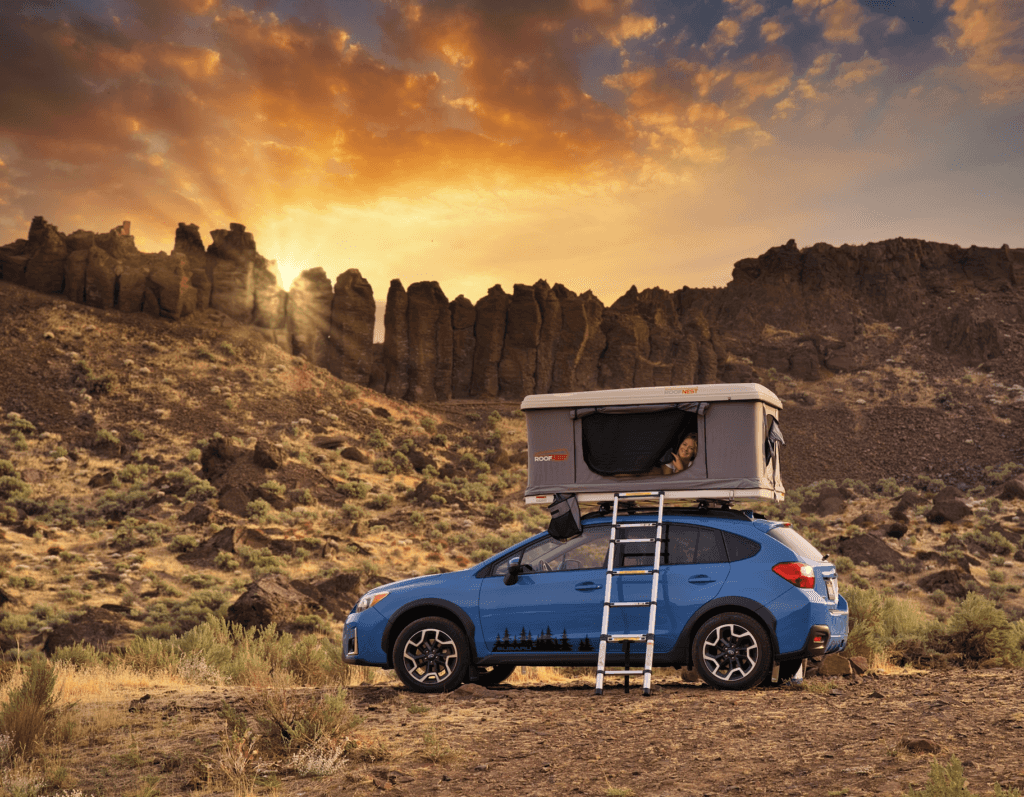 With an enticing starting price, the Subaru Crosstrek is one of the most affordable options for exploring the great outdoors. Even better, all the features you need for any adventure are standard on the Crosstrek including Symmetrical All-Wheel Drive and 8.7 inches of ground clearance. The Crosstrek is a great mix of the Forester and Outback, a smaller version with all the same great features. Crosstrek's can be fitted with a rooftop tent, bike racks, and more, and with 20.8 cubic feet of storage, there is plenty of room for all your supplies. Fold the seats and gain 35 extra cubic feet, allowing you to use an inflatable mattress and sleeping two people comfortably. Your dog will also love the spacious back seats, and the Subaru interior materials allow for easy pet hair cleanup. 
It's not always about the destination, sometimes it's about the journey. The Subaru Crosstrek will make sure your get there safely with a host of features, including a standard rear vision camera on all models, you can park with peace of mind and get from point A to point B, safely.
For those looking to aid the environment on your journey, there is a Plug-in hybrid option for the Crosstrek as well.
Vehicle #4: Ascent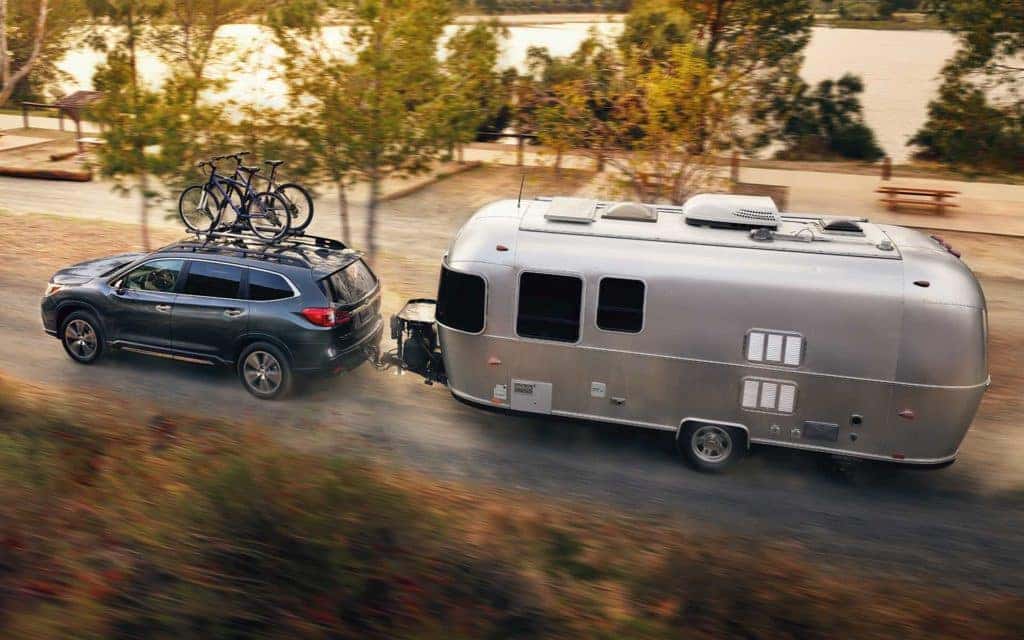 The Subaru Ascent is the largest vehicle in the Subaru lineup, but still packs all the great features your favorite brand is known for. Raised roof rails allow you to carry a variety of cargo for all your road trips, so you can enjoy biking or kayaking on without a hiccup. With a towing capacity of up to 5,000 lbs. when properly equipped, you can leave the tents at home and bring your camper instead.
This standard all-wheel-drive vehicle provided with third row seating and enough room for up to eight passengers, will allow your entire family to join the journey with comfort. Whether you're packing for one night or five, you can take advantage of the awesome cargo space of 86.5 cubic feet. Multiple USB ports for charging and built-in Wi-Fi hotspot will come in handy if you need access to navigation on your phone, or if you need to keep the children entertained by streaming shows. There's also 19(!!!) cup and bottle holders spread throughout the cabin.
We hope this list helped you narrow down your list or gives you an idea on what vehicles are best for camping. Stay tuned for our next segment of Subarus of Summer, where we will highlight accessories your Subaru needs to camp! (You will be surprised)
*always refer to your owners manual for complete towing information.