Where Can I Drive on Oregon Coast Beaches?
Oregon is known for a few things: tons of outdoor activities, Tillamook cheese, craft beer, great coffee and rain. And you can experience all of these things by visiting the Oregon Coast!
There are few things Oregonian's prefer more than pulling up on the beach, popping the hatchback on their Subaru Outback, setting up camp and cracking a cold one (Oregon-brewed, of course). But in Oregon, can you legally drive on the beach?
Can I drive on the beach in Oregon?
The short answer, yes. But it gets a little more complicated from there.
Driving is permitted on certain beaches during specific seasons/months/times of day, however, some beaches have limited driving access. There are plenty of beaches where driving is not permitted (Seaside, Lincoln City, Cannon Beach, etc). But we'll focus on a few beaches where you can drive on the beach.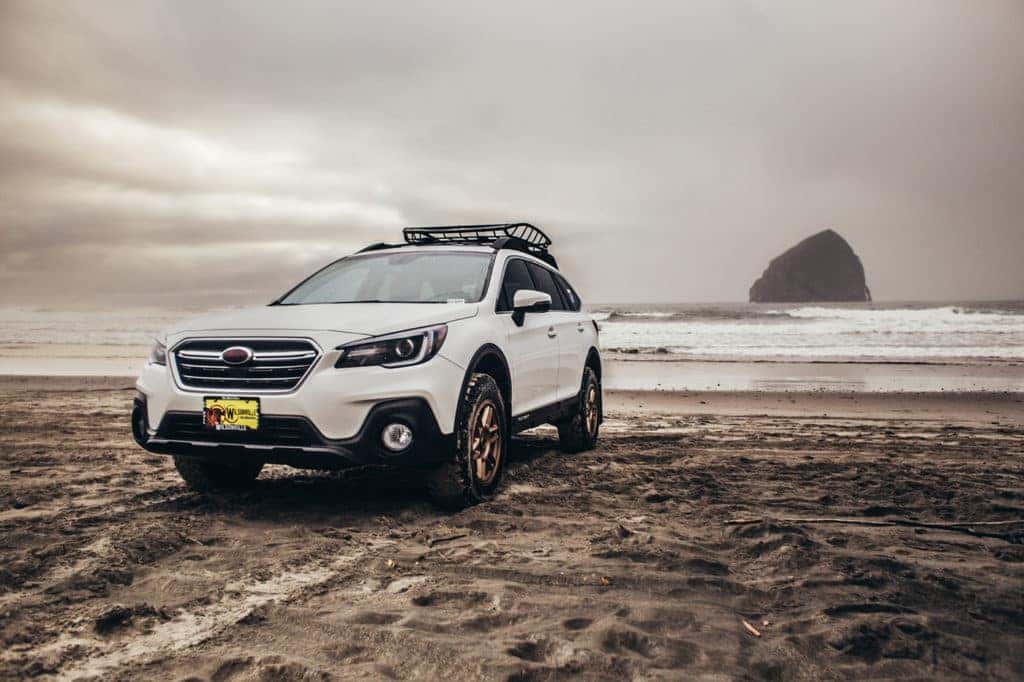 But which beaches can I drive on?
Sunset Beach State Recreational Site (North Coast)
This wide open stretch of beach is on the North coast, right past Gearhart. In fact, it is part of a 10 mile area between Gearhart and Warrenton where driving is permitted. Here, you can drive on the beach any hour of the day, as there are no restrictions. There are also 21 paved parking spots near the park entry, where you can ditch the car if you decide you want to frolic on the beach without it. The 120-acre park is located off of US-101 and is known for it's hiking trails and vehicle access.
Pacific City (North/Central Coast)
One of the most popular places to drive on the Oregon Coast is Pacific City. There are certain areas of PC where vehicles are allowed, the most common entrance being next to Pelican Brewing, right off of Cape Kiwanda Dr. (And while you're there, try the Pelican Spicy Burger – you won't regret it). Beware – there are certain areas of Pacific City where driving on the beach is not allowed. Make sure to keep an eye out for signs indicating that driving is no longer permitted, (and please, obey them – we don't want our privileges revoked, ya know?)
Tierra Del Mar (North/Central Coast)
At Tierra Del Mar, driving access is available year-round! Tierra Del Mar is another stunning North Coast location with a couple vehicle access points. The first vehicle access point is in Tierra Del Mar, while a second access area is an unmarked beach location about a mile north of Kiwanda. Tierra Del Mar has about a quarter mile stretch of beach that cars are allowed on. Enjoy the beautiful views at this small, quaint village. Tierra Del Mar isn't too far from Pacific City, so make it a day trip and hit both beaches while you're at it!

Tips for driving on the beach
Please. Please only drive on the beach if you have an All-Wheel Drive or 4-Wheel Drive vehicle. Too many people get stuck in the sand, which makes your beach-going experience much less enjoyable. If you have a 4WD vehicle, make sure you only have 4WD activated while driving on the sand, and remember to deactivate it before you hit the pavement again. (Sounds silly, but you'd be surprised how many people forget 4WD is engaged.)
Dont. Be. This. Guy.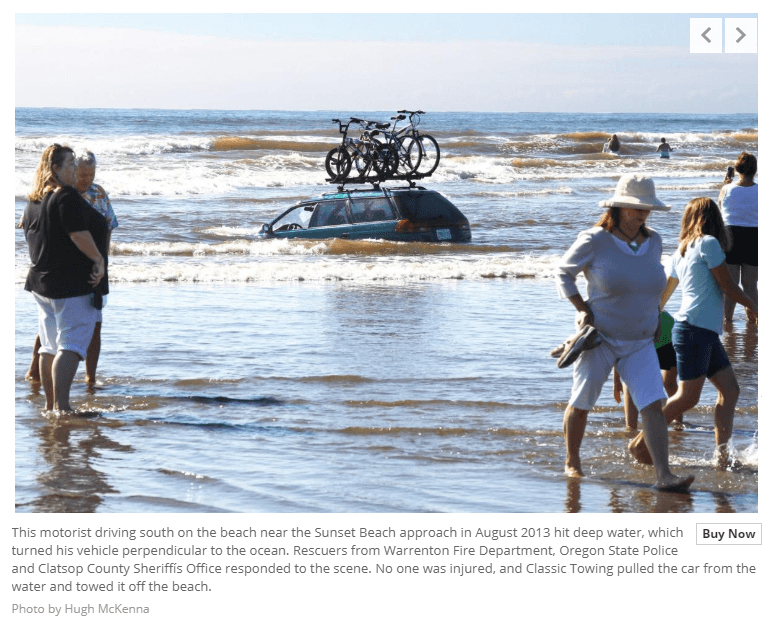 Photo Courtesy of Hugh McKenna & Marilyn Gilbaugh @ discoverourcoast.com
Make sure to check the tide before you hit the beach. The sandy beach area can diminish quickly once the tide starts to come in, and you don't want to get stuck trying to escape the water. If the tide is high, it's probably best to avoid driving on the beach altogether.
It's good practice to reduce your tire pressure before you hit the sand, especially if the sand is rather deep. Reducing tire pressure causes your tires to not sink in quite so deep, allowing you to keep your vehicle on the surface of the sand. Lighter tires have a wider footprint, which helps you navigate the beach much easier. This helps to reduce the risk of getting stuck. Tire pressure depends on what vehicle your driving as well as the tires equipped, but dropping to 10-20 psi should be helpful in your Oregon Coast excursion.

It might feel natural to put the pedal to the metal once your tires hit the sand. But driving slowly on the sand will be to your advantage. The easiest way to navigate the beach is to follow the tracks of cars that came before you. Staying on this more compact sand can help to ensure you don't get stuck. And once you start driving, don't stop until you get to your destination. But do keep an eye out for children in Crocs building sand castles and their sunhat-wearing grandmas shouting "Jake, watch out for that Subaru!" If by chance your wheels start to spin out, do not hit the gas harder to try to fix the issue. You'll likely dig yourself deeper in the sand, and a stranger in a Toyota truck will have to pull you out, which can be embarrassing.
If your luck runs out and you do get stuck, it's nice to have a shovel in the back of your car to help you out. Digging out some space in front of your tires can be beneficial. Once you dig some of the sand out, compact some sand down into a flat "ramp" in front of the tire to help your wheels gain some traction to get out.
We cannot stress this tip enough. If you head to the beach, please be sure to clean up your mess before you leave. That is all.
Have more questions about driving on the Oregon Coast? Feel free to leave us a comment!